Is the sound of the hammer hitting the anvil a natural conclusion, or a teller's choice?
Synopsis
Imago is meant to be a multi-part hybrid of video dance and short film. This first part is titled Orientation, and is the introduction to the nameless character's abduction, who finds herself literally inside a story constructed by the main unseen antagonist, The Engineer.
The story must be completed, and to accomplish that she has to interact with a room where semiosis and metaphor come to life. The themes of transformation, self-image, and imagination are articulated through action, motion and its interpretation, original music, and The Engineer's haunting voice.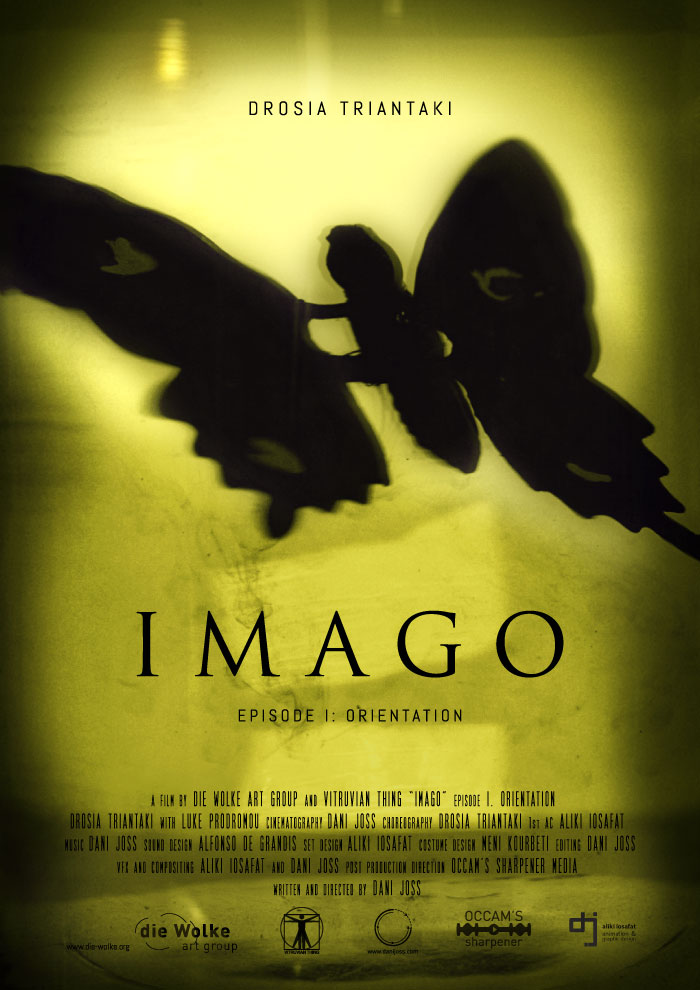 Credits
Written and directed by Dani Joss
Cast

Drosia Triantaki
Luke Prodromou as The Engineer
Choreography: Drosia Triantaki
Cinematography, editing, compositing, VFX, colour: Dani Joss
Set design, 1st AC, VFX, compositing, animation: Aliki Iosafat
Costumes/Makeup: Meni Kourbeti
Sound design: Alfonso De Grandis
Audio mastering: Apostolos Siopis
Production sound, mixing: Dani Joss
Prop artist: Rinette Iosafat
Post production direction: Occam's Sharpener Media
Computer Voiceover: Rhiannon Morgan
Music composed, recorded, and mixed by Dani Joss

"Pre-echo"
"Looking Glass"
"Orientation"
"Turbulence" parts I & II
"Spiroid"
"Post-echo"

Musicians

Elektra Miliadou
Nana Kouli

Produced by Die Wolke Art Group / Vitruvian Thing

Request Press Kit PDF using the contact form
"With the "Imago" series of short films, we attempted to infuse a narrative element to the video-dance genre and, in doing so, steer it towards a cinematic feel. Essentially an experimental film, we attempted to create an ambivalent state regarding the interpretation of body motion: it oscillates between the abstract nature of contemporary dance and the in situ action of the character. To achieve this, we created a protagonist that embodies an aspect of artistry, and set up a world to be explored that she can react to, utilising non-inconsequential narrative structures and semiosis."